Information on Paintball Game in Pune – Fun Addaa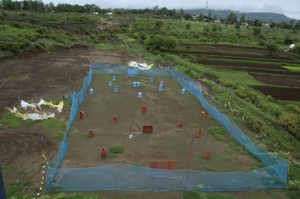 Fun Addaa is located in Seasons Mall, Pune and is known for paintball in Pune. It is designed over 14,000 square feet in the midst of Pune. This is the first Adventurous entertainment centre in the city. Along with air conditioned lawn, food court, and sports bar it also offers you a private party zone leading a best entertainment spot in Pune. It has Indoor games like
Paintball game in Pune which offers International standard referees and safety protected guns to each team. This would be well suited for a group of friends or if a small group would be merged with others present there. The teams will be divided among groups and they have to prepare their own strategy being at the battle field. If you are a novice, no worries, you can always seek help from the experienced trainers present there. They will give you fundamentals and strategy for paintball game. Once you are in the game, you will actually start feeling the heat of the moment and that makes this paintball in Pune so wonderful.
Fun Addaa has also introduced Archery Tag in India for the first time in India. This a team game to conquer the territories which is remind the days when Kings were conquering territories.
Jumping Zone is especially for kids again for the first time in India. This is soft play area for kids with age group 2 to 10 having more than 30 activities like tunnels, mazes, slides and many more. Fun Addaa is an option for adventurous entertainment in Pune and also offers discounts during weekdays and also corporate offer.
Fun addaa, also offer Laser tag game in Pune with co2 in the laser guns rendering a real war feeling in the game. That keeps the nerves high on the game to either defend oneself or to hit the opponent. If you are a small group of a small family, they will merge you with other teams.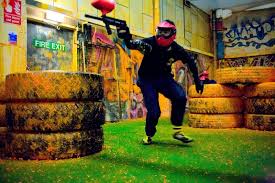 There are many more interactive games to be enjoyed with family, friends or your loved one. Some of the other games includes Laser maze, train riding without tracks, motor racing, mini golf, amusement rides, mini golf and many more to explore there. These advanced games well equipped with technology gives creative ideas to kids, and hence a must visit place with family in Pune.
Fun addaa also provides coupons in regular interval for a package of games and the coupons can be redeemed for a single person. Nevertheless, the coupons give you a great discount on the total price, but they are mostly valid on weekdays. If a team outing is planned on a weekday, you can avail corporate discounts as well as the coupons.
If you are planning for a short whole day trip in Pune with family, friends or your loved one, this is an ideal place. You can get into multiplex for movies, enjoy food at the restaurant. There is a sports bar for your service too. Last but not least, you can enjoy shopping from an array of brands present in seasons malls Pune, while you are going to fun addaa.
Address:  Seasons Mall, Mundhwa Road, Magarpatta, Hadapsar, Pune, Maharashtra 411028
Phone: 020 – 67224000
Website : www.funaddaa.com