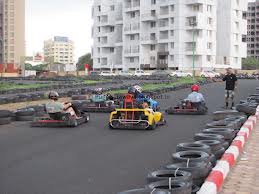 Things to do at Downtown racing
Bungee ejection and go karting in Pune are the highlights of Downtown Racing and should definitely feature in the maps of any adventure sport enthusiast. At 500m, the go-karting race track at Downtown Racing is one of the longest in the country and is one of the most sophisticated and fastest. The joint has highly advanced race cars as well to match up with the superior character of its track. Bungee ejection at downtown racing is equally thrilling as racing. The double pulley system powered by a 220v motor shoots up people into the air to a height of 45 metres. The facility has excellent safety standards and one can have no worry over that while enjoying that adrenaline rush.
Downtown racing is one of the best places for one day trip in Pune, which has something for every age group. Be it with a small group of friends, a family trip or a team outing in Pune, it has got many adventurous things to do. Below are the quick snapshot of the services provided at downtown racing Pune with the approximate prices charged, including the major game, Go karting in Pune.
Camping adventure tours, corporate training, restaurant and various adventure rides.
Though there is not restriction for a normal group of friends, camping adventure tour is a customized service according to the number of members you would be visiting as per your team outing in Pune. Various team building activities can be done here and camping adventure tour is planned more specifically for corporate team outings in Pune with variety of games. Individual groups can choose from a variety of adventure rides of their choice.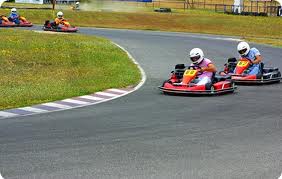 Adventurous rides at downtown racing including Go karting in Pune
Go Karting at Rs 250 for 5 laps and Rs 450 for 11 laps
ATV Bike ride at Rs 250 for 3 laps
Human Slingshot at Rs 300 per pax
Bungy Ejection at Rs 100 per pax
Zip Line (flying fox) at Rs 200 per pax
Paintball at Rs 400 for 50 shots and Rs 600 for 100 shots
Mad Bull at Rs 100 per pax
Zorbing at Rs 150 per pax
Target Shooting at Rs 50 for 10 shots
Buggy Ride at Rs 600 for 3 laps
They have corporate discounts as well and opened from 11 AM to 11 PM. If you wish to select only a few of the activities, they will provide a customized package as per your requirement. Though there would be waiting time on weekends and holidays, so it is advised you make the bookings in advance. You can enjoy food at the restaurant with your family or friends after the rides. A place for one day short trip in Pune filled with adventure and a complete relaxation after a hectic week. Must visit place Go karting in Pune with other full filled activities.
Address
DOWNTOWN RACING
Survey no. 57,
Near Ganga Constella,
Kharadi
Pune- 411014
Phone no. : 09921223333