Information on Restaurants in Pimpri Chinchwad Pune – Copa Cobana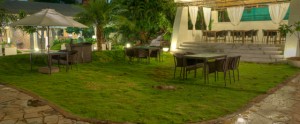 Description : The ambience of Copa Cobana is very nice and cosy especially if you are out at night, it has a pretty decent garden area where you can find that the lighting is bit dim on garden side and it's your day if the environment is cool because all you have the breeze running and summer night will not be pleasant. Food served is overwhelming such as Mandrin Cottage, Italian Mushrooms, though the cheese sauce was tasteless and garlic naan was not good enough to eat. It's better to try starters than main course, though it's not bad but it's neither too good to eat. Staff service was quick but fats service doesn't means that it was good, as the order place were not organised, food were coming on regular interval but was not well placed. Before ordering you need to specify them whether you would prefer spicy food or not as the food served is very spicy. It has the option of home delivery as well and furthers more availability of bar make things happening for the youth where they can party hard with their friends. Dine-in and outdoor seating arrangement has also been made available you can choose according to your preference.
Phone No: 8888888236
Address: Next to Orange County.Waakad Road. Vishal Nagar. Wakad. Pune.
Working Hours: 11AM-3:30PM. 7PM-11:30PM.