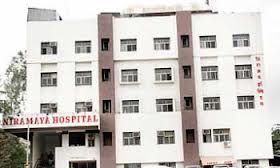 Hospital Description: Niramaya Hospital Chinchwad Pune is a multi-speciality hospital with 110 beds and advanced medical equipments and technology for quality treatment. Established 20 kms away from Chinchwad, this hospital holds experience in critical and emergency care, surgeries, diagnosis and special facilities like in-vitro reproduction, cardio-thoracic surgery, acute and chronic pain relief, dialysis unit, trauma and neurosurgery unit, diabetics and many more.
In addition to that, it has gynaec facility, Psychiatry and joint replacement available. Niramaya Hospital Chinchwad Pune has special isolated cell for SARS patients and quick-handling toll free services for critically ill patients.
It also extends a 'Golden Package' for health checkups for the patients to use the services in competitive prices, which could be discussed through contacting them.
The services are totally computerized with central oxygen supply. Niramaya Hospital Chinchwad Pune has a 24 hours open medical store and cafeteria for the patients. Niramaya Hospital Chinchwad Pune is well equiped with latest medical equipments and diagnostic treatment facilities.
Specialities: Gynaec, orthopaedics, neurosurgery, general surgeries, 24 x 7 open services, subsidized health package, trauma treatment, reproduction-related treatments, cardiac centre and emergency services
Phone Number:020 27441860, 020 27441864, 020 27607777
Address:
Above Safalya Nursing Home,
208 Station Road Pimpri
Pune-411018.
Maharashtra.
India.
Website:www.niramayahospital.com