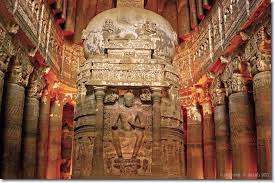 Information on Ajanta and Ellora Caves-Ajanta
Place description : Ajanta and Ellora Caves still chants the history of the era.  Dating back to 2nd century BC, Ajanta caves were reorganized by UNESCO as a World Heritage site along with Ellora Caves. The paintings and sculptures depict the lives of Budhha, Bodhhisatvas and Jatakas. Set in the Aurangabad district, Ajanta is a famous tourist spot where people around the world visit it.
Distance From Pune : 337 Kms
Attraction: Cave Paintings and sculptures
Restaurants:  Lemon Tree Hotel, The Ambassador Ajanta, Hotel Windsor Castle, Hotel Sparkling Pearl
Shopping : Small and beautiful shops of Bidri Pottery and also famous for semi precious stones, beads and silver items
Medical facilities near by : nearest hospitals are in Jalgaon: Orchid Hospital, Dr. Narendra Doshi Hospital, Ganpati Hospital
Route description:
From Kalyan Ahmednagar highway/state Highway 10 for 2 Km and continue onto MH SH 60 and in 7.3 Km continue onto State Highway 60 and in 2.8 Km at Dream, continue onto MHSH 60 and you passby Bhosale Petrol Pump on the right. In 65.7 Km continue onto SH 60 and take slight left onto Nagpur Aurangabad Mumbai highway in 28.7 Km. In another 5 Km take the 1st exit onto MH SH 16/ MH 211 and in 25 Km take right onto Ellora Cave road in 57m.
Emergency contact :