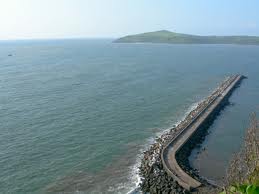 Information on Port city in India-Ratnagiri
Place description : The port city in India Ratnagiri should include into your places of visit at Pune.  Ratnagiri is a port city on the Arabian Sea coast in the state of Maharashtra. Having a rich mythological past along with an equally enriching cultural present which depicts the histories of this place, Ratnagiri is a famous tourist destination as well as known for pilgrimage. Industries also flourish along with agriculture and fishery because of the favourable climate all year round and the abundance of rains during the harvest season.
Distance From Pune : 299 Kms
Attraction: Pir Babarshekh Urus at Hatis, Rajapur Ganga, Marleshwar, Thiba Palace, Thiba point, Mandavi Beach, Bhatye Beach, Mirkarwada Beach, Malgund, Jaigad, Pawas, Atulit Bal Dham, Velneshwar, Ratna Durg, Ganpatipule, Shivasamarth Gad, Nivali Waterfall
Restaurants:  Hotel Vivek, Hotel Landmark, Hotel Krishna Sea View
Shopping : There are 3 shopping malls in Ratnagiri for shoppers
Medical facilities near by: Lion's Eye Hospital, Patil Hospital, Lotalikar Hospital
Route description:
From AH 47/NH 4 drive ahead for 148 Km and take slight left onto connecting road. Take the 1st right onto Kale and continue onto MH SH 144 and in 850m take left to and in 5.2 Km turn right at Kokrud road. Turn right in about 2.2 Km and take left towards National highway and in another 13.2 Km turn right Ganesh Mandir and drive ahead for 42.3 Km. Turn right onto Dabhole Ghat road and move ahead for 29.9 Km and turn left to stay on National highway and reach the destination in 10.8Km.
Emergency contact : City Police Station: 02352-222333