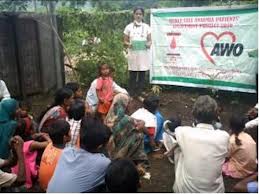 We are all recognized by the good and evil that we do in this world. It is easy to blame the government for many issues in a country, but it is difficult to solve those problems by yourself. Such organizations that take part in making this world a better place are called NGOS or no-profit government organizations.
BEST NGOS IN PUNE
Below mentioned is the list of NGOS in Pune, where you can invest in any possible way to make a difference.
1.      ARMY ECOLOGICAL CELL
This is the most effective Indian Army related social groups in Pune. It works for the welfare and effective ways to make our Army stronger and more efficient. It is considered one of the best when you are looking for List of NGOS in Pune.
Leader: Col. M. T. Rao
Location: H.Q. Southern Command, Pune – 411001
Contact Number: 020-602041
     MASHAL
It is also the known NGO from the List of NGOS in Pune which is also known as "The Hope Of Light", looking for a cause this association was started in 1985 to give human rights in India a voice. This organization works for community development and other related activities for the upliftment of poor people.
Leader: Mr Sharad Mahajan
Location: Office No. 7, 1st floor, Mahada Commercial Complex, Gokhale Nagar, Pune,Maharashtra – 411053
Contact Number: 020-5653566
     MAHARASHTRA AROGYA MANDAL
This is an Ayurved college established in 1990, to help younger generations learn and research more on Ayurvedic medicine and surgery courses. It can be one of your choice from List of NGOS in Pune.
Location: Dr. S.T.Gujar, Secretary, S.No. 165 A, Malwadi, Hadapsar, Pune – 411028
Contact Number: 020-6870205,020-6870358
FAX: 6810702
     JEEVAN
In this list of NGOS in Pune this union is focused on mahila bal vikas Pune to increase the employment rate and women empowerment.
Location: Ms Girija Godbole, Secretary, 6,Shree Apts, 917/16, Ganeshwadi, Pune – 411004
Contact Number: 020-5650239
     GREEN THUMBS
It is a Voluntary Charitable Trust in Pune founded to protect our environment and to keep it healthy for future generations.
Location: LT.CoL. Suresh Patil, 4- A Nehru Marg, Off Ghorpadi Bazar Cantonment, Pune,Maharashtra-411001
Contact Number: 020-841462
     NISHCHAY
Nishchay thrives on the idea to provide every Indian with their fundamental rights listed under the constitution. It is probably the only organization in this list of NGO in Pune who will protect your right to speak and think.
Location: L.R.Balasubramanian, B1/35 Sarvatra Society, Next to Anand Nagar – Paud Road, Pune-411029
Contact Number: 020-5448065
     ARBUTUS CHILDRENS CULTURAL CENTRE
 It is the best anath ashram in Pune, which takes in poor minors in their shelter to give them a better chance at life.
Location: DR (Mrs) Meera Bondre, Meghdoot, 12th Lane Prabhat Road, Pune – 411004
Contact Number: 020-5677452
     WILDLIFE SOCIETY
 Protecting wildlife is a very crucial act performed by this society to save endangered species survive and care for the welfare of animals kept in zoos.
 Location: Mr Suresh Nagpurkar, Secretary, 185, Budhwar Peth, Laxmi Road, Pune – 411002
Contact Number: 020-4456743
     MASUM (Mahila Sarvangeen Utkarsh Mandal)
 This is an institute that works for the right of women and fight for any act of injustice performed against them. It is considered one of the best when looking for List of NGOS in Pune.
Location: Ramesh Awasthi, 11, Archana Apts, Kanchanjunga Arcade, 163, Solapur Road, Pune,Maharashtra-411028
Contact Number: 020-6875058
10.  CYDA (Centre for youth development activities)
 Youth is the future of India and this committee works for its empowerment by providing them NGO jobs in Pune and other facilities.
Location: Mr. Mathew Mattam, D-5, Ganaraj Heights, Sainikwadi, Vadgaon Sheri, Pune – 411014
Contact Number: 020-6685221