Information on Restaurants in Pune – 11 East Street Cafe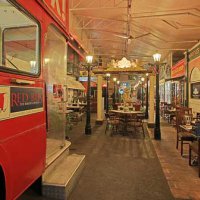 Description : One of the places worth visiting in Pune is the 11 East street cafe. It is a very unique place and the restaurant is divided into 2 separate floors and both the floors give a very different feel all together. The first floor is more of a hookah place and is usually preferred by the young crowd. The lighting of this floor is dim and is just perfect to set one's mood. Music is very good and not loud at all. This floor has different sections with air-conditioners in each of them and curtains keeping in mind the privacy. It is the perfect place to party. It is just the right place to chill and have fun. The second floor has excellent interiors with walls painted with street signs and shops to depict a typical London street. Ambience is very exotic. This place is open from 11:00 a.m. till 12:30 a.m.. It offers lip smacking Continental, Indian and chinese cuisine. It's an ideal place to enjoy late night brunch. It also has exciting new offers for each day. If you are at the East street cafe you must try the bacardi chicken, chef ke angaarey ,sheeshas and bar which is the specialty of this place. It also has a double Decker bus at the entrance which displays its bakery products which are absolutely tempting and mouth watering. This place has complete value for money also keeping in mind that the quantity and quality of food is not compromised. It has parking facility and provides home delivery as well. It is one of the coolest places in town for youngsters to hang out and celebrate birthdays!
Phone No: 020 3057 0433 ext 273
Address: 11, East Street, Camp. Pune.
Working Hours: 7PM onwards (Mon-Tues), 24 hrs (Wed), 8PM onwards (Fri). Happy hours: 12PM-8PM.
Location Map :