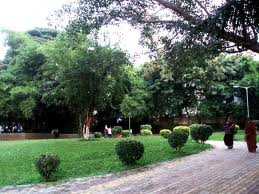 Information on Parks in Pune – Vartak Udyan
The Vartak Udayn is named after the famous botanist Dr. V. D. Vartak and is considered to be one of the sought parks in Pune. Occupying an area of about three acres, the Vartak Udyan is an ideal place for a nice morning walk and jogging as it has everything that a park has to offer. Located near the Omkareshwar temple, this is a favourite spot amongst health conscious joggers, playful kids and senior citizens looking out for some quiet time. This place is also an attraction for couples. This small and beautiful park has a paved jogging track that coils through the greenery which consists of tall shady trees and neatly trimmed bushes. The lawn here is like soft bed and the surrounding flower plants greatly contribute to the park's beauty. In addition to this, there is a playground in the park with swings, a slide, and a see-saw, made for children. This playground is the favourite part of the park for children. Outside the park one can find fruit juice vendors, where refreshing and nutritious fruit drink is available at a reasonable price. No fee is charged for the entry to this park. This park opens from 6:30 AM to 10:00 AM and from 4.00 PM to 8:30 PM.
Address:
VARTAK UDYAN,
Next to Omkareshwar Temple,
JM road,
Pune.