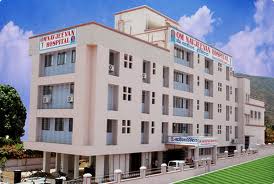 Information on Hospitals in Pimpri Chinchwad Pune – Navjeevan Hospital
Description: In Akurdi area of Pune, Navjeevan Hospital is one specialized hospital to cater to several medical needs, primarily including surgeries and general medication. This hospital specializes in doing all types of abdominal surgeries since last 33 years. It also provides ENT services with general physiotherapy. This hospital is in service from last 19 years with specialized staff and round-the-clock available ambulance service. It has 25 years of expertise in Hernia surgery and the patients are kept for full day under local anesthesia. All the required medication and staff support is available here.
Infrastructurally, this hospital is occupied with one single AC room with extra beds for attendants. There are also double occupancies for the patients to stay under medical checkups. ICU is also available, along with a general ward. The in-house pathology laboratory is also present to carry out the tests smoothly and timely. It also has general first-aid with gynaecology and paediatrics multi-specialties. It has extensive care setup for maternity-related issues and well-equipped rooms for general surgeries if required. This hospital is quite accessible by all the modes of transportation due to its open location.
Phone No: (020) 27653974, 9822595606, 9423569617, 9423569627
Address: 2nd Floor, Near Ganaraj Complex, Akurdi, Pune – 411035
Speciality: Gynaecology Clinic
Location Map :