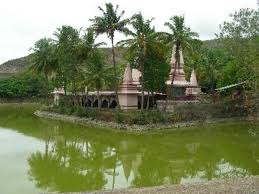 Information on Temples near Pune – Ramdara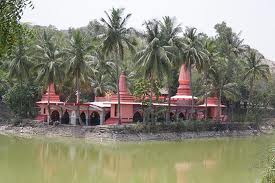 Place Description: 
Ramdara features in the list for temples around Pune. It is home after all to the famous Shri Shiv temple. It is located 10 km away from the Loni Kalbhor Village, off the Pune Solapur Highway. The temple is surrounded by water on its sides and has beautiful sculptures all around it. The Shree 1008 Devipuri Maharaj Dhundi Baba temple is a very famous attraction in Ramdara. The temple is situated approximately 30 km away from the city. It is mainly used as picnic spots near Pune by the tourists.
The temple was built by Dhundi Baba or the Devipuri Maharaj. It overlooks a pond and is surrounded by lush green scenery, perfect for one day trip around Pune. The atmosphere is very serene and quiet. People come here to embrace some much needed solitude and peace. The inside of the temple is colourful and spacious. The main deity is Shiva, however, many Gods and Goddesses are represented throughout the Temple. There are 12 Shivlingas here that are worshipped on a daily basis. It is, all in all, a beautiful temple near Pune and place for one day picnic near Pune.
There is also another very interesting feature which most tourists don't know about which is that there is a lake that is located underground on a hill and is known as Sita Nhani. Tourists climb the mountain to view this lake. It is a gorgeous Pune attraction. What makes it even more special is that the temple is off the beaten path of tourist spots and amid best places to visit near Pune. Hence, the number of people who come here is less. This lends an air of tranquility to the surroundings and makes the place a safe haven for weary travellers. The mesmerising beauty, the utter calmness of surroundings, the piousness of the temple, the mysteries of the pond, multiple idols in vibrant colours, all lend a hand in making the this Temple a must see tourist destination in Pune.
Attraction:
This Temple is the buzzword for tourists in the vicinity. There are very few places that can match the peace and beauty of this small temple. The location is fantastic as it is nestled away from the regular tourist destinations, amidst a beautiful pond, and lush greenery. For a wonderful picnic, a quick getaway, a long drive, or just while discovering places near Pune, head over to the this Temple. Its serenity is a balm to the soul and the overall atmosphere is beneficial to one and all making it one of the serene tourist spots near Pune.
Distance from Pune: 40 km
Attraction: Ramdara temple, amusement parks, wild rides
Route Description: Map will be helpful: