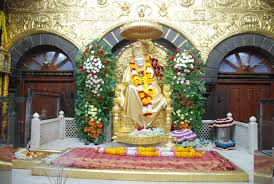 Information on Temple in Maharashtra – Shirdi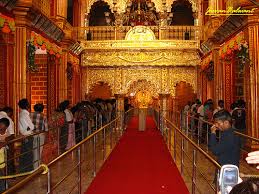 Place description : 
Shirdi Sai Baba Temple in Maharashtra is the abode for pilgrims all over India. It is held by the believers that taking blessing of Sai Baba Shirdi is an absolute must.  Shirdi is one of the wealthiest temple organizations in India. Best known as the land of Shirdi Sai Baba, a popular guru, the temple is one of the main Shirdi places to visit. Also called the land of Sai, hundreds of devotees are drawn every year to this holy place to pay their homage to Shri Shirdi Sai Baba.
It is said that the saint Sai Baba was referred to as the child of God. He preached tolerance towards all religions and was a champion for universal brotherhood. Thousands of people visit the temple and queues start even before sunrise to catch a glimpse of the life sized statue of Sai. There is a special Puja held every Thursday and crowds increase on that day for a darshan. The temple belonging to one of the most popular saints in the country is probably the most important of Shirdi tourist places.
There are important Shirdi attractions in the vicinity of the temple such as the Dwarkamani Mosque where it is said that Sai Baba slept and meditated on alternate nights. The dhuni or the eternal flame keeps burning day and night in a corridor near the mosque. Religious equality is the byword in Shirdi, as people of all faiths are welcome to pray and seek blessings. The mosque too is besieged by many pilgrims and is one of the most important places to visit in Shirdi.
In the category of hotels in Shirdi near Temple there is the "Pilgrims Inn", with many self contained rooms. It meets all basic necessities of the devotees. There are over 53 hotels in Shirdi to accommodate the hundreds of thousands of people visiting every year. During some seasons, hotels could be booked up months in advance. However, considering its vicinity to Nashik, many people visit Shirdi on a day trip.
Other places to visit near Shirdi are the Gurusthan, the Kandoba Temple, Shani Mandir, Narsimha Mandir, Changdev Maharaj Samadhi, Lendibagh, Chavadi and the Sakori Ashram. These places have religious significance and most of them are connected to the Sai Baba in some way or another. There are many places to visit around Shirdi such as Nashik, Shignapur, Ajanta and Ellora caves, etc. The panoramic view of the Western Ghats adds to the flavour of Shirdi Sightseeing.
Attractions:
Sai Baba Temple is what people mainly come to Shirdi for. The great saint is an inspiration to thousands of people and they visit his temple to seek his blessifrom Pyngs.
The panoramic view of the Western Ghats that is visible from Shirdi makes the place seem secluded and picturesque and gives a sense to peace to the devotees and tourists.
Distance From Pune : 187 Kms
Attraction: Sai Baba temple, panoramic view of the western ghats
Restaurants:  Hotel Sai Leela, Hotel Saikrupa, Sai Sahavas Hotel
Shopping : Key chains, jewelleries, wooden toys and more
Medical facilities near by: Shri Sai Superspeciality Hospital, Shri Sai Baba Hospital, Kotasthane Hospital, Deshmukh Hospital
Route description: Map will guide to reach Shridi from Pune :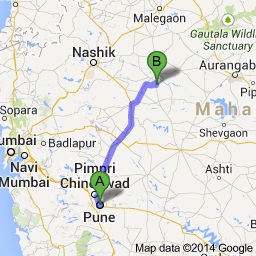 Emergency contact : Police Station: 0241-2416101