Information on Short trips near Pune  -Malshej Ghat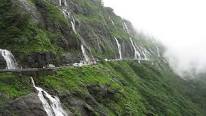 Place description : 
If you are planning for short trips near Pune, then Malshej Ghat can certainly gift you a smile with its much yet undiscovered splendours. It is located close to Pune and it is renowned for being a virgin destination. Malshej Ghat is a spectacular location especially during monsoons when the place seems to come alive. Migratory birds from Siberia are another reason for tourists to visit this place. The mating dance of the Flamingo birds is a mesmerising view for Ornithologists and ardent tourists alike.
Places to visit in Malshej Ghat or rather the Malshej Ghat attractions are the Buddhist Caves and the Shivneri Fort. There is an unusual hill in the region where it is said that the Buddhist Caves are located. They date back to the 3rd Century and are incredible attractions for the historic traveller. The Fort dedicated to Shivaji commemorates his place of birth. He is a legend in Maharashtra and his birthplace is revered by all.
Other points of interest or places to see are the dense woods and the wonderful views. Harishchandragadh is a place near Malshej Ghat. Its chief attractions are Saptatirtha Pushkarni, Kalbhairav Pinnacle, Temple of Harishchandreshwar, Taramati Peak, Konkan Kada, Kedareshwar Cave and many more.
Khireshwar is another great destination near Malshej Ghat. It is renowned for its Nageshwar temple and its numerous waterfalls. The view itself can spellbind any tourist. It has a lush green cover and a very romantic atmosphere.
There are plenty of Malshej Ghat Resorts. They offer ultimate comfort to the traveller and make your trip truly worthwhile.
Places of Interest : 
The Panoramic Views of the Western Ghats are attraction enough for the traveller wishing to get away from the daily hustle and bustle. The picturesque views coupled with the extraordinary surroundings as well as the great weather, makes Malshej Ghat a truly spectacular place to visit.
The Migratory birds are exotic and special. They choose very specific locations to migrate too. This is why Malshej Ghat is very unique and wonderful. It provides all the beauties of nature like variety of trees, abundant fauna, and the best birds.
Distance From Pune : 120 Kms
Attraction:  Panoramic view of the Western Ghats, migratory birds
Restaurants:  Flamingo Hill resort
Medical facilities near by: Emergency accident relief number: 1033
Route description: