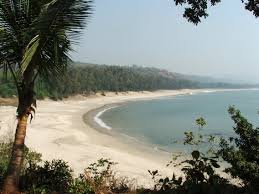 Information on Beaches near Pune – Kashid Beach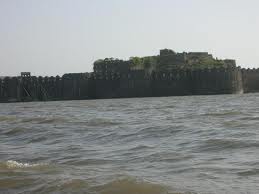 Place description : 
Kashid Beach consisting of several virgin beaches near Pune became one of the most idyllic holidays. Kashid Beach is on the Arabian Sea. It was not a tourist destination until recently and is almost deserted on weekdays. However, on weekends, many tourists can be found enjoying the sunset and trying out adventure sports such as surfing. The waves get dangerously high during the months from June-September when surfing is not recommended.
Kashid beach Alibag has something most beaches dot – a sense of total and utter exclusivity away from every worry, trouble and thought. It is the best alternative for city folks for recharging their over wrought batteries and getting recharged and refreshed.
Places to visit in Kashid beach are the Revdanda Fort, the Janjira fort, Pasand Wildlife Sanctuary, and Dutta Mandir. The beach is however, the greatest attraction of all.
Pasand Wildlife Santuary is one of those places you absolutely cannot miss. It is located about 12 km away from Kashid Beach. It has a good variety of flora and fauna. The views are also spellbinding.
The Janjira Fort is a fort from the 16th Century and has great views of the blue Arabian sea. It has withstood many attacks and is replete with history and a story to tell. The architecture is also very sturdy. It is a true attraction to Kashid beach and is only a short drivable distance away.
The Revdanda Fort was built by the Portuguese rulers. It is covered in betel nut trees. The Fort is very close to the Revdanda Beach and about 14 km away from Kashid Beach.
One of the finest attractions to this place is the Kashid beach water sports. There is nothing than letting your adventurous side take over on a vacation and truly letting go. The water sports are also very energetic and will refresh your mind and body.
Kashid Beach Resort is a great place to stay while touring the area. There are plenty of Kashid Beach cottages, and one can book them advance for a even more exclusive experience.
Places of Interest:
The Kashid beach is idyllic and as of yet virgin. It is spectacular with the clear sand and the blue waters. The beach is a perfect respite from everyday worries.
Many water sports options are available in the Kashid Beach. They are sure to add up spice to our already fantastic vacation at Kashid Beach.
Distance From Pune : 182 Kms
Attraction:  Beach, water sports
Restaurants:  Kashid Beach Resort
Shopping : Lots of beer and wine shop
Route description: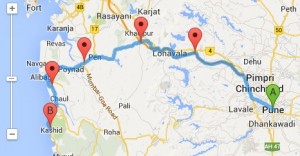 Emergency contact : nearest police station is at  Highschool Rd, Nagothane, Maharashtra 402106 02194-222034