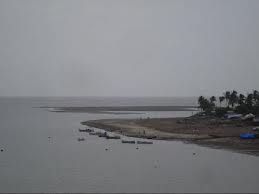 Information on Beaches near Pune – Bordi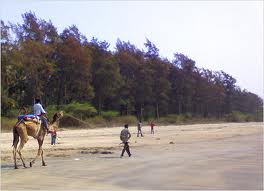 Place description : 
If you are planning for a family trip to the beaches near Pune, then Bordi can your one choice to visit. Bordi Beach is the main attraction along with a number of other temples and forts. Located in Thane district, Bordi is a quiet place. Its idyllic location away from the noisy cities makes it a perfect getaway for many tourists and campers.
There are many Bordi beach resorts in the area. It is really close to Dahanu and their coastline is referred together for tourism purposes. Bordi is famous for its chikoo plantations. It is a serene place with beautiful surroundings and lots of places to visit.
Places to visit in Bordi are Kalpatru Botanical garden, Asavli Dam, Vrindavan Studios where many serials are shot especially the great epics and historical soaps, the Bahrot Caves, Depchari Dam and reservoir, Dahanu Fort, and Mallinath Jain Tirth Kosbad Temple.
The Dahanu Fort is located 24 km away from Bordi in Dahanu. It was captured by the Marathas in 1739 and taken over by the British in 1817 under the treaty of Bassein. The British used it as a jail. The walls of the Fort are made of cut stones. It is a formidable structure echoing the pages of history.
The Bahrot Caves are a perfect place for the thrill seeker. It is said that the Zarathosthi people took refuge here while hiding from the Muslim invaders in the 14th Century for 13 years. These people are referred to as the Parsis today. It is said that they blessed an Iranian Fire temple and the Iranshah flame has been burning since then. The caves are located in the lap of the Bahrot Mountain and are surrounded by lush greenery.
Places to visit near Bordi are the towns of towns of Umbargaon, Boisar as well as Dahanu. Trekking trips can be arranged till Mahalakshmi temple and Bahrot caves which are easy but for a more difficult trek, one could try Asherigad as well as Gambhirgad.
Places to Visit :
The Botanical Garden is situated in Umbergaon and famous for its surrounding trees. It is perfect for people in love with flora.
Asavli Dam is an old water reservoir that was manually built and has great views all around. While Depchari Dam and reservoir is one of the largest lakes clouded in peace and serenity that is bound to take you away from all hassles of everyday life.
The Mallinath Jain Tirth Kosbad Temple is the largest of the 24 Jain Tirthankaras or holy places for the Jains.
The Bahrot Caves is an important place for the Jains as well as has historical importance. It is famous for its Iranshah Flame.
The Dahanu fort is a great peace of architecture that must be visited on a trip to Bordi.
Distance From Pune : 214 Kms
Attraction: Aswali dam, Bordi Beach, Mallinath Jain Tirth Kosbad Temple, Bahrot Caves, Kalpataru Botanical Gardens, Dahanu Fort
Restaurants:  Shiv Panipuri House, Ruturaj Resort, Tapovan Retreat, Hill Zill Hotel
Shopping : Bakery and nothing much
Medical facilities near by : Dr. Dinanath Nursing Home, Siddharth Nursing Home (Dahanu Road)
Route description: Map will help to reach Bordi from Pune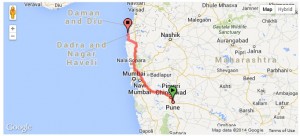 Emergency contact : Central Police Station, Ulhasnagar, Thane: 91 251 2710005