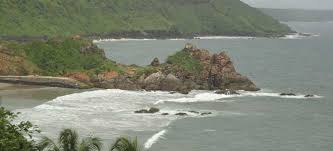 Information on Beaches near Pune – Nivati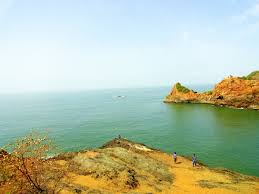 Place Description:
Nivati beach is probably the best tourist attraction one could hope for. It is secluded and pristine with long stretches of white sand and turquoise waters. The beach surprises you with its little nooks and corners and there are numerous things to be done and discovered at the beach. It is a cove hidden from the rest of the world that is a perfect getaway from the busy everyday life and give utmost relaxation to the visitors. Nivati is a place with beautiful sightseeing and a fascinating shoreline is one of its best features. The shoreline truly would take anyone's mind away. It is still unexplored by thousands of tourists and hence less crowded. It is truly one of the most beautiful beautiful beaches in the entire Konkan region.
The search for the ultimate Nivate Beach Resort is a bit difficult. As it is not in the tourist industry spotlight, resorts on the beach are not easy to come by. However, there are multiple hotels and resorts in the vicinity which are an easy car ride away. Nivati is a place where one could lose himself/herself and hence, going to the beach early and spending the day there is a good option.
Sighting dolphins is not an easy task but tourists enjoy dolphin sightings in Nivati without breaking a sweat. Dolphin rides are also very popular in Nivati. The Nivati Rocks are another popular attraction. They are located 10 nautical miles in to the sea and are a group of three rocky islands which is a delight for explorers and will ensure that no tourist forgets Nivati easily. There is also the backwater which channels along the paddy fields. One other tourist attraction is the ruins of the Nivati fort which is situated on the beach itself. It bears testimony to the events of history and is a reminder of all that Nivati has gone through and still left standing. There is a natural grandeur about this place which makes it even fascinating.
Places to Visit:
The Nivati Beach is what tourists go to see, explore and enjoy in Nivati. The perfect blue waters which complement the white sand, the magnificent shoreline, the fort ruins, the dolphin sightings, the Nivati rocks, all add splendour to this place which cannot be missed and must be explored. It is the getaway for everyone looking for some time away from the hustle and bustle of city life and for just lying back and relaxing under the sun and on the white sands.
Distance from Pune: 398 km
Attraction: Nivati beach
Restaurants and Hotels: Revankar's Homestay & Cafeteria, Pancard Club Hotel, Abhiruchi Resorts, Gajali Hotel.
Medical facilities near By: Kashalikar Hospital, Ankur Hospital, SINDHUDURG RADIOLOGY CENTRE, Redkar Hospital Research Centre.
Route Description: Below Map will guide you to your destination Navati Beach.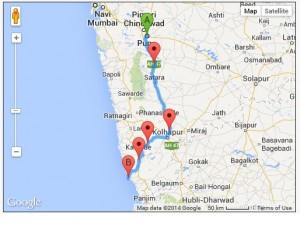 Emergency Contact: Kudal Police Station, located at Laxmi Wadi, Rawoolwadi, Kudal, Maharashtra 416520. Vengurla Police Station, located at Camp Road, Vengurla, Maharashtra 416516.