Information on Beaches near Pune – Shrivardhan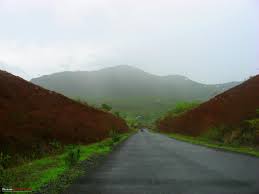 Place Description:
Set in the Raigad district of Maharashtra, Shrivardhan is a municipal city, replete in historical relevance. It is also one of the major tourist destinations in the area, well known for its scenic beauty and religious sites.  It is well known as a trade centre of the past, as well as a taluka visited by Arjuna Pandava during his pilgrimage. Shrivardhan also witnessed the fall of the Marathas after Shivaji's reign, as power moved into the hands of the Peshwas, who had their centre in Pune. Prime Ministership under a symbolic king, however, began in Shrivardhan in 1713. Also, the third Peshwa ruler, Balaji Bajirao, built his house in Shrivardhan in 1750.
Besides, these elements in history, Shrivardhan house a number of temples like the Shri Laxminarayan Temple, Jivaneshwar Temple, Somjal Devi Temple, Kusumdevi and the Bhairavnath Temple. These are important places to visit in Shrivardhan. Of these the Somajal Devi Temple is the most important as the locals believe in the 'venom neutralising powers' of the deity. The Somajal Devi is said to have miraculous powers to heal and thousands of people come here to pray.
Shrivardhan is a home to religious places. In fact, the entire area is booming with spirituality. There are innumerable temples that are beautiful places to visit while on a holiday or can even be taken as pilgrimage sites. There is a Shiva temple in the nearby town of Harihareshwar which is of great significance.
The Shrivardhan beach is said to have sun kissed sands and is spectacular to look at. The beach in itself is clean and the view from the beach is magnificent. Often enough, one need not doi anything but watch a sunset from the beach to feel free and be at peace and let the worries from everyday life slip away. The Kondivali beach in Shrivardhan is also famous for being a fishing port. It is called Kalcha Jivana and it is always bustling with life and energy.
The Shrivardhan beach is a part of the Raigad beaches. Places to visit near Shrivardhan are the two other beaches that make up Raigad beaches. They are known as Harihareshwar and Diveagar. Together, these three places offer some of the best vacation and getaway choices for the city folk for weekends or even for longer trips. There is also Murud Janjira near Diveagar which used to be a sea fortress. It is formidable in both its history and architecture and one must see it to believe its majesticity.
There are multiple Shrivardhan beach resorts that cater to every need of the traveler and can be booked according to preference.
Places To Visit:
Diveagar and Harihareshwar are nearby towns. Their beaches along with the Shrivardhan beach forms the imposing and mesmerising raigad beaches.
Somjal Devi Temple and Shankar temple are must visit places for the religious traveler.
Distance from Pune: 159 km
Attraction: Diveagar, Harihareshwar, Shankar temple
Restaurants and Hotels: Savli Resort Shrivardhan, Hotel Shivshrushti Shrivardhan, Savli Village Resort- Shrivardhan.
Medical facilities near By: Dr. Joshi's Hospital,Dr. K. Y Rawoot Hospital.
Route Description: Road Map from Pune to Shrivardhan: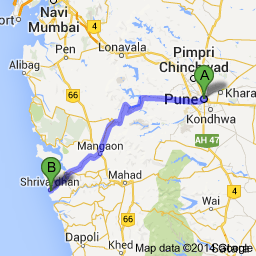 Emergency Contact: Bankot Police station, located at Dhanshey, Bankot, Maharashtra 415208. Dighi Sagri Police station, located at Sonar Ali To Mohalla Road, Borlipanchatan, Maharashtra 402403.