Information on Beaches near Pune – Dahanu
Place description: 
Dahanu tourism has boomed in the recent past with the knowledge of all that Dahanu has to offer. It is located half hour drive away from Bordi and is a Municipal Council. Dahanu is known for its rose gardens, and chikoo and sapodillas plantations. 35% of India's chikoos are produced here. Chikoo jams made from these chikoo plantations are quite famous among the tourists. There are various Persian remnants that attract tourists like the agiary and the bungalows that line the beach.
The Dahanu beach is a 17 km stretch of land with a great shoreline. The water is cool and there is always a gentle breeze blowing. The beach is also used for water sport activities and swimming is a lot of fun in the Dahanu waters. Overall, the beach is just a part of all that Dahanu has to offer every traveller.
Dahanu is a sacred place for people of the Zoroastrian faith as their spiritual place is located here. There is a sacred fire which always keeps burning and is a must see location for any traveller visiting the region.
Many good Dahanu resorts can be booked for staying. The seasons for visiting Dahanu are during the winter months. Dahanu has developed into a commercial and industrial belt in the Thane district and hence people come here on business as well. The Dahanu power plant for example supplies electricity to Mumbai and is a great boon for the local economy. This in turn gives money to strengthen the tourism industry.
The warli paintings that are said to have originated here are renowned worldwide. There are many places to visit in Dahanu. Treks are also arranged till Mahalakshmi temple and Bahrot caves which are easy and anyone can attempt these but the trek to Asherigad as well as Gambhirgad are just a tad bit difficult. Most tourists plan their visit to Dahanu during the months of November to March. The climate is really very pleasant and just a bit warm, so one can easily enjoy the town and its surroundings.
Places to visit near Dahanu includes the towns of Umbargaon, Boisar and Bordi which are easy drivable distances and provide a lot of things to see and do.
Places to Visit:
Kalpatru botanical garden is majestic and filled with many varieties of trees and shrubs.
Asavli Dam and Depchari dam and reservoir are great destinations for a short trip.
Bordi beach and Dahanu beach are places that the tourist can just let go and relax in.
Bahrot caves and the Dahanu cater to the explorer in you. One could just turn back the pages in history in these places.
Mallinath Jain Tirth Kosbad templeis a good religious place to visit on your stay in Dahanu.
The beautiful temple that houses the sacred fire of the Zoroastrians has to be seen to be believed.
Distance from Pune: 271 km
Attraction: Bordi beach, Dahanu beach, kalpataru botanical garden, Dahanu fort, MallinathJain Tirth KosbadTemple, Bahrot caves, asavli dam, depchari dam and reservoir
Restaurants and Hotels: Pearline Hotel, Pearline Beach Resort, Orchard The Resort, Hotel Beach Classic, Sarovar Hotel (Restaurant), Hotel Surbhi (Restaurant), Mazda Hotel (Restaurant).
Medical facilities near By: AHURA MAZDA NURSING HOME, Swastik Paediatric Hospital, Kety Medicare Centre, Reliance Hospital, Mandesh Netralaya, Matruchhaya Nursing Home, Sewa Nursing Home, Brethren Mission Hospital.
Route description: Map will guide to reach Dahanu.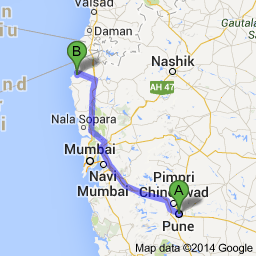 Emergency contact: Dahanu Police Station, located near Rail Station, Malyan, Dahanu, Maharashtra 401601, contact no. +91 2528 222 444. Jakat Naka Police Station located at Dahanu – Jewhar Road, Manphod, Saravali, Maharashtra 401602. Police Post, located at Parnaka, Dahanu, Maharashtra 401602.