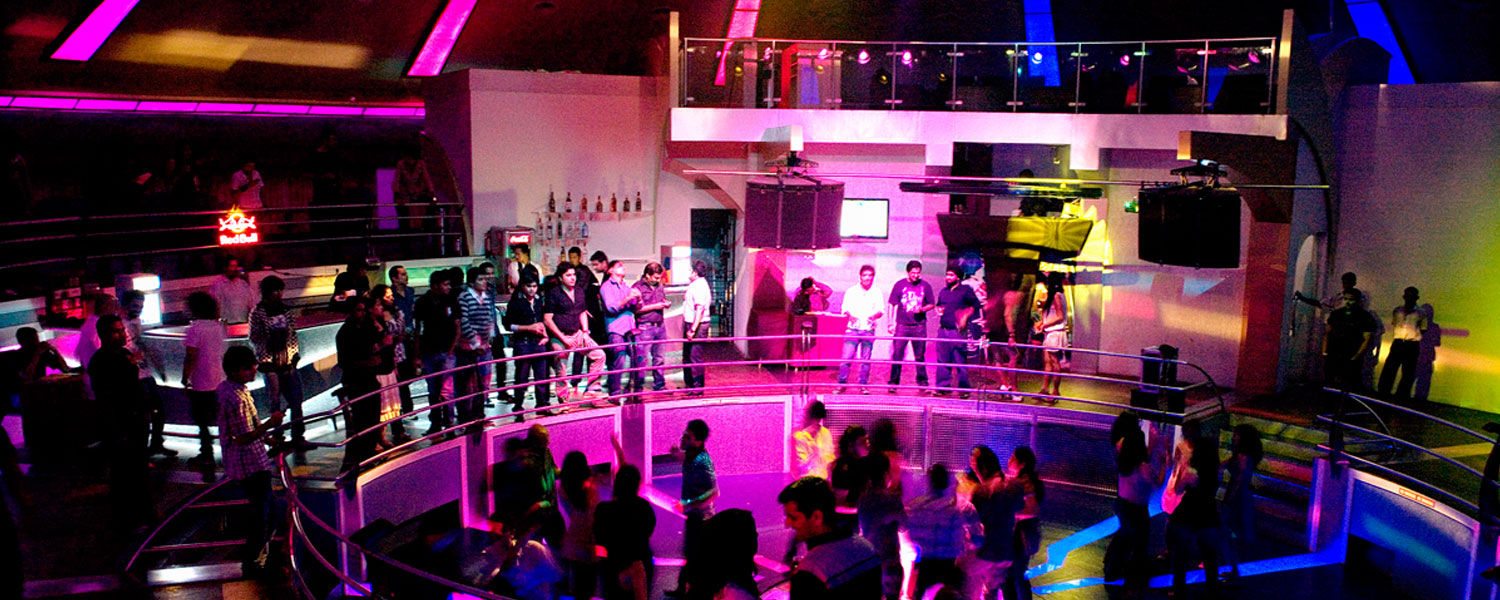 Have a long weekend? Friends in town? Want to go partying and pub-hopping? The search ends here! There are a number of places in Pune to hangout if you are with your friends or significant other, may it be quiet romantic gardens, serene hill-tops or pubs and discs, if you are a party person. Some of the good places in Pune to hangout with friends include lounge bars, discotheques and pubs if you want an evening of good music, dance and alcohol. So if you have saved enough for one lively night to paint the town red, here are some of the best places in Pune to hangout which includes the best discs in Pune.
Below is the list of best pubs in Pune
Swig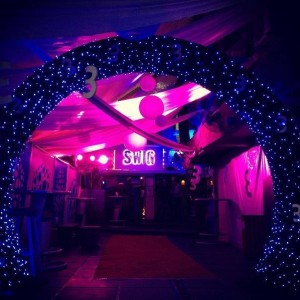 Located at Koregaon Park, this bar & Eatery is one of the best hangout places in Pune. With live music, dance floor and a jazzy ambience, this is the place to be with your friends to enjoy an evening of dance, music and quality food, washed down with good alcohol. Swig boasts a diverse menu comprising Continental, Mediterranean and Caribbean and is open all days from 12:00 pm to 11:30 pm, and considered amid the list of best pubs in Pune. One can experience exotic cocktails with a twist while listening to all kinds of music played by live musicians whose playlist can include anything from English jazz to Indian Classical. Swig has also begun monthly 'art nights' when artists of all kinds such as painters, sculptors, dancers collaborate with the musicians for an evening of fusion art. Swig is rated among the top pubs in Pune by many, however the downsides to this Pune pub are that it has no wi-fi or air-conditioning. These maybe overlooked since it has the distinction of being the most happening places in the city.
The Bombay Bronx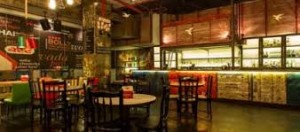 If you want to get the feeling of the classic Bombay at Pune, The Bombay Bronx is the place to be.  Being an all-day bar, Bronx serves lunch buffet at Rs. 385 only and for Rs. 1500/- one can enjoy unlimited food and drinks. What more is to be said about this cool destination. Kids are allowed only till 5 pm. There is a seating capacity of 100 persons outdoor and about 82 persons in the main area. As the sun sets in Pune, this bar wakes up with enlivening music and young hearts throng to one of the best places in Pune for hangout.
Area 51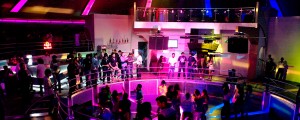 Situated at pan Card Club, atop a hillock in Baner, Area 51 is the largest discotheque in Maharashtra having a revolving restaurant which overlooks the dance floor. This hangout place in Pune is designed like a space-ship with sensor-fitting doors so the people get the feeling of entering a real space-vehicle! Open only on Saturdays and some Fridays, Area 51 is ranked among the best discos in Pune. It boasts 300-seating capacity with a varied menu including Indian, Chinese and Continental. Fitted with the latest equipments concerning lights and sound system, the high beats of the DJ instantly hits your senses as you enter. Open from 08:00 pm to 01:30 am, this disc in Pune  had increasingly attracted the young crowd and has become the hottest pub in Pune!
The Ship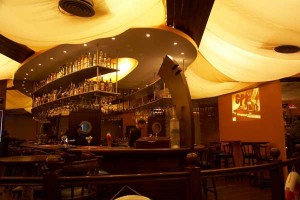 For those who are in for a laid-back evening with drinks and good music, The Ship is the ideal place to hangout in Pune. Located at Kalyani Nagar, this restro-bar is built from actual scrap ship parts, giving it a Pirates-of-the-Caribbean feel and among the list of best pubs in Pune. With an extensive European cuisine and a well-stocked bar, The Ship draws all types of people on all the seven days of the week. The lunch hours are filled with families who come to enjoy the food while the evenings are packed with youngsters who come for the reasonably-priced alcohol. It is among the top places in Pune to hangout with friends. The Ship organizes theme nights such as karaoke Mondays, Mojito Rock Tuesday Nights, Martini Nights Wednesdays and live music acts on Fridays which are a big sttraction to the young crowd of Pune.
Kue Bar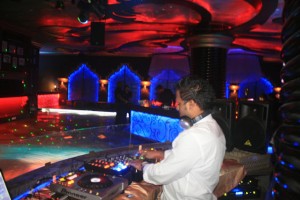 Located in Westin Hotel, Kue Bar is for the posh ladies and gentlemen of the city and is regarded as one of the best places in Pune to hangout in style. Built in a swanky fashion, this nightclub is a vibrant place in the heart of the city with commercial and hip hop music. On Fridays and Saturdays the place is packed with the young crowd looking to party hard after a long week of college or office, so if one wants to get the lazy feel of a drink and laid-back evening, Sunday is the day to visit. Kue Bar is also famous for Stiletto Senorita theme on Wednesdays when it offers free entry and unlimited  drinks for women and is among the list of best pubs in Pune. For an unconventional décor, flaming drinks coupled with good-old Bollywood, Kue Bar is a cool place to hangout in Pune.
High Spirits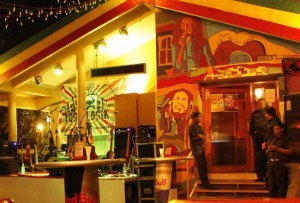 Offering Continental, North-Indian, Italian, Mexican as well as finger-food cuisines, High Spirits Café in Koregaon Park is among those hangout places in Pune which fits the perfect definition of a nightclub. With organized theme nights on all evenings, electrifying music, a wide range of food and drinks, this disc in Pune had done well to deserve the title of being the best place to hangout in Pune for the energetic young people with "high spirits". Prom Night, Great Gatsby party, Halloween Party, live performances, karaoke- this pub in Pune  has it all. The posters give a sixties-feel to the place and by promoting social causes such as safe sex, no child labour and safe drinking, High Spirits café is the Pune disco to be!
Stone Water Grill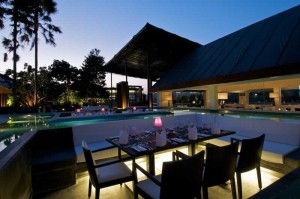 Ranked among the best bars in Pune, Stone water Grill offers its customers excellent services of food, drinks as well as a party ambience. The chef has introduced new techniques of preparing exotic dishes which will tease your taste-buds and the bartender has innovative tricks up his sleeves which makes for a perfect blend. The indoor area and the outdoor space together provided for  large party ground for anyone interested to try new things. Also in Koregaon Park, this Pune pub brings international artists such as Edward Maya and the Faders for an evening of dancing and unlimited fun. Definitely among the list of best pubs in Pune.
Ouzos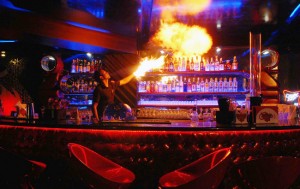 This disco in Pune is another place which is open late into the night, drawing the party animals almost on all nights of the week. The roof-top restaurant is minimalistic and yet elegant, casual and yet one of the most frequently visited hangouts in Pune. There is something on every evening- Russian Night on Tuesdays where one can get free vodka shots, surprise shots on Wednesdays, retro on Thursdays, electronic on Fridays, hip-hop Bollywood on Saturdays and the Sundays are dedicated to Caribbean parties with rum-based shots. It also offers a banquet hall for private parties and other events. In short, Ouzos is among the best hangout places in Pune.
Hard Rock Café
This international line of pubs is unchallenging in its place as the best pub in Pune. With a signature menu and live performances of international standard, the HRC holds very high esteem in the eyes (and ears) of the old and young. HRC, Pune houses some of the important memorabilia of its history such as the pair of Levis jeans worn by Paul McCartney in 1997, signed guitars by Pete Loeffer, Mick jagger among others and  the rock shop which is an additional attraction selling HRC merchandise to the faithful Hard Rockers. Open from 12:00 pm to 11:30 pm, one can visit for a soothing lunch with a couple of beers or a lively evening with party drinks and dancing. The best bar in Pune indeed has a lot to offer!
Mi A Mi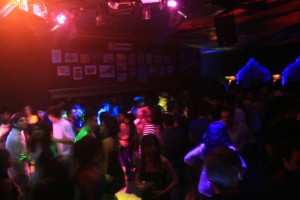 Undoubtedly among the best nightclubs in Pune, this place to hangout in Pune is one of the few discos in Pune to have hosted a number of DJ of international repute. Housed in JW Marriot, one has to pass through a stringent ring of security, two doors before entering the pub. But once in, it is all worth it! With wickedly mixed drinks and electronic dance music, Mi A Mi comes to life every evening with numerous party animals hopping in for unwinding after a long day. Private enclosures, bed lounge, island bar, shot bar and themed nights make this the best disco in Pune. Ladies nights on Wednesdays and happy hours on Fridays are the town. Open Wednesday to Saturday from 09:00 pm to 01:00 am, this is among the many discs in Pune which should be on the must-visit list of all Puneites and well as tourists.
The above Pune happening places are chosen on the basis of popularity and customer reviews and the list of the good pubs in Pune certainly does not exhaust here. There are tons of other Pune pubs which are equally, if not more, appealing to the young demographic of the city such as the Penthouse Nightlife, The 1st Brewhouse, 1 Lounge, 1000 oaks, Fishbowl, Single Malt & Co., Paasha and others. The pubs in Pune have been rated as the most happening places of the country. This is because, being the Oxford of the East, Pune is filled with reputed colleges and since it is also an IT hub of India, many young professionals reside here. The great places to hangout in Pune with friends are to be found around every corner and in every street. Pune hangout places are one of the best in the state and the list of best Pubs in Pune draw crowds from all age groups who want to experience Pune nightlife.