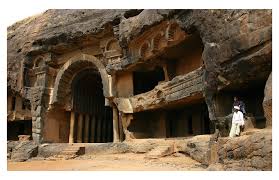 Information on Caves near Pune – Bhaja Caves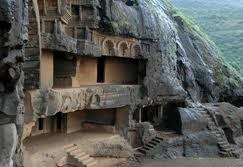 If caves near Pune attract you then Bhaja Cave is a must see destination.The Bhaja Cave complex comprises 18 caves and 14 stupas.  Dating from around 200 BC, these architectural curiosities lie amidst thick greenery in a setting that's so calm, it's almost mystical, making it among one of the best tourist places near Pune. According to Archaeological survey of India, chaityagriha is considered one of the important aspect of Bhaja Caves. It can be considered one of your favourite travel destinations near Pune during monsoon as you can see multiple waterfalls during that time. It is interesting that some of the wooden beams considering 2000 years old are still prominent, and is one of the places to see historical caves near Pune. Out of the 18 caves, 12th cave is prayer hall representing true buddhist architecture. Each of the 18 caves represent its significance like the 12th cave is for prayer hall.
If you are looking specifically for places near Pune for one day trip, Bhaja caves is one of the best option as you can continue to Karla caves on the same day or you can continue your trip to Lonavala on the same day as well. A visit to Bhaja cave and then a refreshing lunch on the way, moving ahead to get some admirable views at Lonavala would be an ideal one day trip from Pune.  While wrapping up your day, don't forget to have a nice dinner near Lonavala famous restaurants, serving some delightful recipes. One of the prominent among them is "Lucky da Dhaba". At the end of your 1 day trip near Pune, you will have lots of memories, as the places mentioned above are some of the best tourist place in Maharashtra.
Nevertheless, check our Travel destinations section for the best places to visit near Pune, be it Monsoon, summer or winter, we have everything for you.
Distance from Pune– 60 Kms
Restaurants and Hotels near by– MTDC Holiday Resort
Shopping– Souvenir
Route Description : Map will help to reach Bhaja Caves from Pune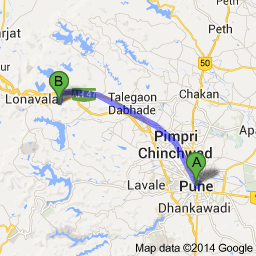 From Ambedkar Wellesly Rd which is on Mumbai Highway turn left at the 2nd cross street to stay on Mumbai Hwy. Continue on highway for another 900m and take left onto Ekvira Devi Rd, in another 2.1 Km turn left to join Mallawali Uddanpul and you will find the destination.
Emergency Contact-Police Station: +912114273033