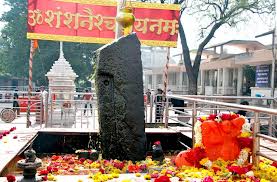 Information on Temple Near Pune – Shri Shani Shignapur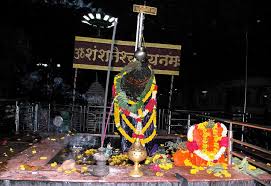 Place Description:
Shri Shani Shingnapur is a village that is situated in Nevasa taluka of the Ahmednagar district, in Maharashtra. It is 65 km away from Shirdi and 35 km from Ahmednagar. The personified Lord Shaneshwar or usually known as Shanidev is the deity of the Shani temple here and is believed to be the mighty and benevolent Lord of the village. An astonishing fact of Shri Shani Shingnapur is that in this village the houses have no locks on the doors and windows as it is believed that Lord Shani, who is a personification of the planet Saturn, keeps an eye on their well-being. It is also believed that no crime takes place here due to the presence of Lord Shani himself.
Due to its close range from Shirdi, most of the hotels in Shani Shignapur are in that location. Tourists usually travel from nearby cities to the village making it a fantastic day trip for one and all. Some hotels in close vicinity are Hotel Preetam Aurangabad (located in Aurangabad), Hotel Sai Snehal, Saish Hotel, Hotel Sharan, Eshosans Palace, Hotel Shri Sai Murli, Hotel Sun n Sand, Hotel Shraddha Sarovar Portico, Hotel Best Western Goradias, Goradias Lords Inn, among many others, all located in Shirdi. Some higher end destinations or hotels at a greater distance are Ihop Sanjivani Resort, Hotel St. Laurn Meditation and Spa, and The Gateway Hotel. Tour packages can be organised from the hotel itself, or with the help of agents in Maharashtra or Pune, or as a part of the Grand Shirdi Tour. Either way, there are multiple options to choose from to suit the need of any traveller.
Shri Shani Shingnapur is famous for its Shani Shignapur Temple that is often visited by tourists. The lord is revered by thousands of people from all over the world. The idol is made of black stone. What fascinates the tourists most is the fact that the idol of the deity here is not housed by any temple-like structure. The swayambhu idol is visible from a distance and unlike other pilgrimage sites, the devotees have the privilege of performing the abhishek or puja, or any other religious ritual, themselves.
Shani Shignapur Temple timings are 24 hours a day, 7 days a week. It is really open at all times, welcoming those who seek the blessings of the lord and wish to experience the divine honour of his presence. The visitation timing is also long, approximately 2 hours for each person visiting the temple.
Attractions
Shri Shani Shingnapur Temple is a must see place when visiting the region.
Distance from Pune: 165 km
Route Description: Map will be helpful: