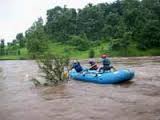 Information on White water rafting near Pune – Kolad

Place description : 
Kolad is a perfect holiday destination with its white water rafting near Pune that gives you innumerable options to discover yourself. Kolad is famous for white-water rafting among other adventure sports. Its beach and serene surroundings make it an attractive place to visit on a weekend. Tourists can spend their days in experiencing the exciting activities while enjoying the cool environment by the clean beach at dusk.
Kolad is located very close to the city of Pune and is a great getaway destination to take your mind off things. There are many places to visit in Kolad such as the Kundalika River, the Bhira Dam also known as the Tata Powerhouse Dam, the Ghosala Fort, the Kuda Caves, the Tala Fort, the Satarwadi Lake, the Kanal Avenue, the Tamini Ghat and the Tamhini Ghat Waterfalls, the Gaimukh, the Jananni Hills, the Kolad Dam and the Pui Dam at Dhowal.
But what it is most famous for is Kolad River Rafting. The swift flowing rivers provide the ultimate adventure opportunity to tourists. Kundalika river rafting has really taken off with people of all ages visiting the area. The topography is rough and the mountains are rocky. It is however filled with lush greenery. Waterfalls are in abundance. People also come here for trekking. There are many options for hiking and even in the monsoons, the treks are possible.
Places to visit near Kolad are Alibag, Karjat and Diveagar. Kolad tourism has grown in recent years with attractions such as places with historical significance like the forts, or places of manmade beauty like dams, and of course the abundance of natural beauty in the form of hills, waterfalls, winding path treks, lakes, rivers, mountains, etc.
There are multiple Kolad hotels for tourist and travelers to stay in. It could be for a short or a long stay any time of the year.
Places of Interest :
Kundalika River is the most popular spot owing to the fact that this is where the river rafting takes place.
Bhira Dam (Tata Powerhouse Dam) is a very well known dam in the area with unprecedented sights and views. Another dam is the Kolad dam which is also visited by many tourists.
Dholwal – Pui Dam is located near Kolad and its beauty must be seen to be believed.
Ghosala Fort, Kuda Caves, Tala Fort are some of the historical attractions with heritage and which reflect the culture of the place.
The Sutarwadi Lake, the Kanal Avenue, the Tamhini Falls, Gaimukh, the Jananni Hills are some of the other noteworthy sights in the area which will leave any traveller enthralled.
Distance From Pune :113 Kms
Attraction: Kundalika River, Bhira Dam (Tata Powerhouse Dam), Dholwal – Pui Dam, Ghosala Fort, Kuda Caves, Tala Fort, Sutarwadi Lake, Kanal Avenue, Tamhini Falls, Gaimukh, Jananni Hill, Kolad Dam
Restaurants: Della Resorts & Villas, Sai Farm, Jain Restaurant
Shopping : Stationery and Cafe
Route description: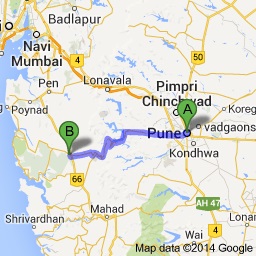 Emergency contact :Police Station: +91-2141-222093