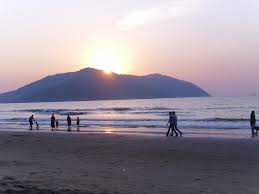 Information on Beaches near Pune – Devbagh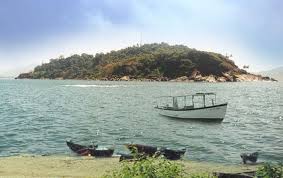 Place Description:
Devbagh is known for its sea and beach. Devbagh beach is unique as it is located between the Karli backwaters on one side and the majestic Arabian Sea on the other. It is filled with coconut palms and lush greenery. The Devbagh beach is secluded and extends from the Devbagh sangam on one side to the Tarkali beach on the other. Though originally a fishing zone, it is not fast developing as a tourism hotspot in the state. The beach by itself is very clean and has soft white sand juxtaposed by blue waters.
Devbagh is sometimes thought of as being like a miniature version of South Goa. It's quaint and there are crosses and grottos in the hamlets scattered here and there. Devbagh is a part of the Malvan area. There are many options for Devbagh beach resort Malvan which provide suitable accommodation for all kinds of travelers.
Hotels in Devbagh Malvan offers tour packages to tourists as there are many things to see and do in Devbagh.
The tourist attractions are aplenty. People enjoy a trip to the Sadashivgad fort. This fort is located at hillock which is 200 ft high. This fort is in Sadashivgad village of Karwar. There are some Tsunami islands nearby which tourists often visit by boats. The tsunami islands are also host to many water sporting options. There are boat rides available for the tourists to visit the Arabian Sea, Kille Nivati beach, Bhogve beach, Karli River. There is also the confluence point near which tourists may be able to watch Dolphins.
At Devbagh Sangam, the Karli River merges with the Arabian Sea. It is a highlight for tourists to be able to see this fantastic location. Snorkeling and boat rides are also available here. Overall, there is much to see, do and experience in Devbagh.
Places to Visit:
The Sadashivgad Fort is a must visit place for the tourists.
There are innumerable beaches near Devbagh which can be visited to enjoy the variations in shoreline and seascape or even for picnics or a day trip. They are the Tagore beach, the Tarkali beach, the Vengurla Beach, the Nivati beach, etc.
Lighthouse in the Vengurla area is a beautiful spot from where the area around can be seen with absolute clarity.
There are also temples to visit in the region for the people with a spiritual bend of mind. They are the Narasimha Temple and the Shejjeshwar Temple.
One could even visit islands near Devbagh such as the Tsunami Islands, The Nivati Rocks and the Kurumgad island.
Karwar port is a pretty nice place to check out while on a trip to Devbagh.
Tourists can also check out the Guddali Peak in the vicinity of Devbagh.
Distance from Pune: 391 km
Attraction: Sadashivgad fort, Tagore beach, Shejjeshwar temple, Narasimha temple, Lighthouse, Kurumgad island, Guddali peak, karwar port
Restaurants and Hotels: Revankar's Homestay & Cafeteria
Medical facilities near By: Ankur Hospital, Redkar Hospital Research Centre, Zantye Hospital.
Route Description: Map will help to reach Devbagh from Pune.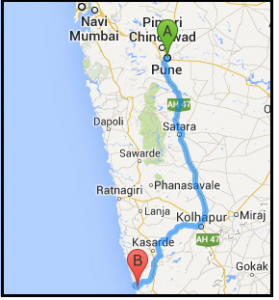 Emergency Contact: Kudal Police Station, located at Laxmi Wadi, Rawoolwadi, Kudal, Maharashtra 416520. Vengurla Police Station, located at Camp Road, Vengurla, Maharashtra 416516. Achara Sagari Police Station, located at Maharashtra State Highway 181, Gaudwadi, Maharashtra 416626, Contact no. +91 2365 246 100 ext.