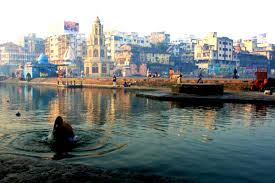 Information on Wine capital India – Nashik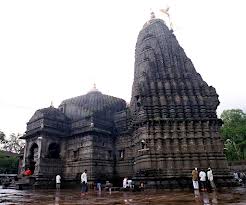 Place description : 
Being the wine capital India, Nashik should be a must to visit in your visiting schedule. The 11th most populated district, Nashik, is located on the banks of the Godavari river. Known for the picturesque scenery and pleasant climate, Nashik is a popular home to numerous tourists. Termed as the 4th fastest among the growing cities of India, Nashik holds the distinction of producing the largest quantity of onions and grapes earning the name 'Grape City' and 'Wine Capital of India'. Nashik tourism has grown in recent past as people visit Nashik for its wine vineyards and even for business purposes.
There are many places to visit in Nashik, such as Trimbakeshwar, Dudhsagar Waterfalls, Deolali Camp, Kalaram Mandir, Nashik Temples, Pandavleni Caves, Mukti Dam, Kalsubai Peak, Bhandardara, Shri Godavari Ramkund, Chamber Caves, Jawhar, Blue lagoon water park, Dhamma Giri, Gargoti Museum, Sula Vineyard, Coin Museum, Artillery Centre, Sita Gumpha, Dudhsagar Waterfalls, Veer Savarkar Smarak, Shrine of infant Jesus, Godavari Ghat, Bhandarda and Kalsubai Peak.
The places to see in Nashik include museums, forts, points of interest, waterfalls, lakes, vineyards, religious places like temples and mosques or even shrines, entertainment zones, dams, water parks, caves, hills and mountains and much more. The Kumbh Mela is also associated with this place.
While in Nashik, one could simply hop from one tourist spot to another. Nashik is steeped in history and it is an added advantage for travellers. The weather too is very pleasant making travel possible throughout the year.
Places to Visit:
For museums and places of unique interest, one can head over to the Gargoti museum, the coin museum, the artillery centre, etc.
Nashik is open to all religions and there are many spiritual places present here such as the Shrine of the infant Jesus, Sita Gumpha, Veer Savarkar Smarak and innumerable temples.
Other places of interest include natural and manmade wonders such as the Nandur Madhmeshwar, Dhammagiri, Saputara, Bhandardara & Kalsubai Peak, Chamber Caves, Shree Godavari Ramkund, Pandav Caves, Godavari Ghat, Ramkund, Dudhasagar Waterfalls, Jawhar, and Blue Lagoon Water Park.
The Kumbh Mela is a unique attraction to the region.
One simple cannot miss out on the Sula Vineyard if one is visiting Nashik. This is where it all started. The brand name of Sula is recognisable everywhere and it has put Nashik on the world map. One can take a wine tour and try out different kinds of wine. It can especially interest Wine connoisseurs.
Distance From Pune : 210 Kms
Attraction:  Gargoti Museum,  Coin Museum,  Kumbh Mela, Artillery Centre, NandurMadhmeshwar, Dhammagiri, Saputara, Bhandardara & Kalsubai Peak, Chamber Caves, Shree Godavari Ramkund, Sita Gumpha, Pandav Caves, Godavari Ghat, Ramkund, Veer Savarkar Smarak, Dudhasagar Waterfalls, Jawhar, Blue Lagoon Water Park, Shrine of the Infant Jesus, Sula Vineyard
Restaurants:  Hotel Samrat, Patang, Hotel Royale Heritage, Hotel Seven Heaven
Shopping : Gift shops and cloths shops
Medical facilities near by: Wockhardt Hospitals, Bhagwati Hospital, Shree Saibaba Heart Institute & Research Centre
Route description:  Map will be helpful to reach Nashik from Pune: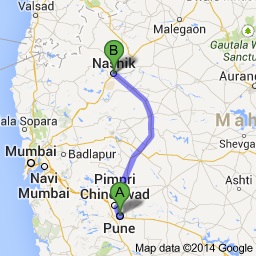 Emergency contact : Nashik Road Police Station: 0253 246 5533