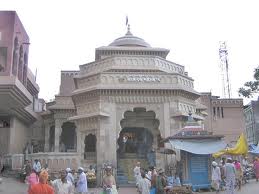 Information on Temples near Pune – Tuljapur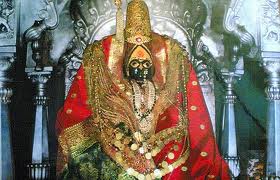 Place description :
Tuljapur, consisting of several temples near Pune is a city of magnificence with its jaw open architectures.  Tuljapur is a town in Osmanabad district in Maharashtra. It has a cultural background and is known for the Tuljapur bhavani temple and the fair held on Navratri in the month of September. Hundreds of devotees throng to this place and pay their homage.
The Temple of Tuljapur Bhavani is said to be one of the 51 Shakti Peeths of India. According to legend, the Goddess Tulja Bhavani was sent on Earth to kill Mahishasura. The temple's legacy dates it back to the 12th Century.  The idol of the Goddess Tulja Bhavani is made of granite and is said to be a metre high.
Some attractions for tourists in Tuljapur are Chintamani, which is right outside the temple and is known for its great views, Kallola Tirth, St. Garibhnath Mutt, Ghat Shila Temple, Dhakte Tuljapur, which is another temple,  Gomukh Tirth, Papanashi Tirth, Vishnu Tirth, Bharati Buwa's Mutt, which is an ashram belonging to a devotee, St. Bharati Buwa of Goddess Tulja Bhavani. The devotee is said to be a personification of Lord Shiva.
Places near Tuljapur are the Naldurg Fort and the Darashiv Caves. The Naldurg fort is situated in the town of Naldurg which was previously the district headquarters of Osmanabad. Naldurg Fort information states that the fort is a chief remenant of the Marathawada region. It is reminiscent of the medieval architecture. There are many temples, myths vantage points to be seen from this fort.
The Darashiv Caves are situated at a little over 25 km from Tuljapur. They are simply stunning and take one a step back in history. There are in total 7 caves, dating back to either the 9th or the 10th century. The caves also house a Shiva temple.
Places to Visit :
Tulja Bhavani fair is what brings thousands of devotees and pilgrims to Tuljapur each year. The Sharadiya Navratra and Shakambhari Navratra are two times when the temple comes to life and is bustling with activity.
Tulja Bhavani Temple is the home to the Goddess Tulja Bhavani who is said to have been born to kill Mahashasura. The temple is one of the 51 Shakti Peeths in india.
Naldurg Fort is situated in the town of Naldurg and reminiscent of excellend medieval architecture.
The Darashiv caves are clothed in mystery, beauty and serenity just 25 km from Tuljapur.
Pandharapur is located 112 km from Tuljapur and it perfect for a day trip. Pandharapur has many things one could see and do as well as enjoy the local beauty of the place.
Distance From Pune : 290 Kms
Attraction: Tulja Bhavani fair, Tulja Bhavani Temple, Pandharapura, Dharashiv Caves, Naldurg Fort
Restaurants:  Shivneri Hotel, Pawan Durga Lodge, Darshan Hotel, Hotel Son of Sun
Shopping : Cakes and pastries
Medical facilities near by: Gate Hospital, Malba Hospital, Mehta Hospital, Peshwe Hospital
Route description: Map will be helpful to reach Tuljapur from Pune :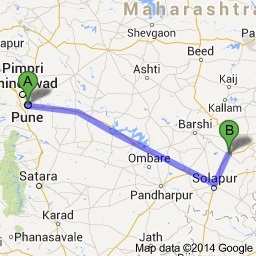 Emergency contact : Police Station: 02471-242028