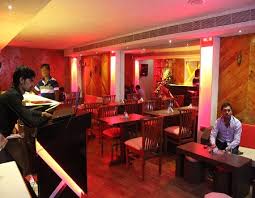 KP lounge bar Pune is situated in Koregaon Park which is a prime location of Pune and this bar is regarded as Pune's best pubs with disco.
KP lounge bar Pune is a very small lounge.  It has very less sitting space as there is less number of sofas and chairs. The bar area is nicely lit and lounge looks fantastic when lit in orange and red combination. The bar chairs looks amazing with bar lighting. The lounge is on first floor and the restaurant is on the ground floor.
Many DJ's keep on coming to this place for different occasions which makes this lounge one of the best night clubs in Pune for late night parties. It is known as one of the best disc in Pune because the music is loud and electrifying which makes one step on the floor. As there is number of DJ's who play here so, different type of music is played every day. Also people visit this place to watch matches of their favorite sport and enjoy chilled beer with it.
Dance at it's best at KP lounge bar Pune

North Indian and Chinese is available at KP lounge bar Pune. The food is not very tasty but the prices are nominal for the drinks and food. They serve amazing hookahs which are a must try. The servers are attentive and helpful.
KP pub Pune reviews are average as the food is not appetizing but the lights, hookah, music and service covers the food aspect, this makes it a good places to visit in Pune at night.
KP lounge bar Pune is open all seven days in a week from 3:00 PM to 11:30 PM. This rocking place is not very expensive, meal for two costs approx Rs. 1300 without alcohol.
Address – Koregaon Park Burning Ghat Road, Behind German Bakery, Koregaon Park, Pune
Phone Number –   +91 8421553829, +91 9860681576