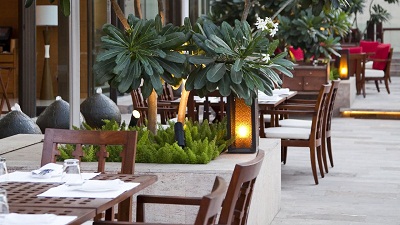 Fishbowl at Hyatt is one of the best hangout places in Pune for couples. It has a bar where you can relax and indulge yourself in conversations, to the accompaniment of peppy music and spirited cocktails. Named after their signature cocktail, this bar which of lately has started following the theme party trend has carved out a niche of its own with its music and the soulful mix of colours dashed on its interiors.

Fishbowl Pune is at once a happy and happening place in Pune and is at its best at all times for a visit. The lounge of the bar extends to large outdoor section and is one of the features of this place which gives of the feeling of a warm hearth. The ambience of the place is what makes this place serve as an ideal take away, especially for those who are looking to have a good time as well as a little time out from their busy schedule.
Fix your date at FishBowl Pune

In addition to this, Fishbowl Pune is also quite popular for its cocktails and liquor. This place has a seating capacity of 75 in its main area. All premium liquors can be availed at FishBowl Pune and since it is a chain of Hyatt Hotels, the class is reflected from the interior.  Albeit, corporate discount can be availed at this place as the prices might seem on a higher side.
Fishbowl Pune Reviews have been positive for people looking for hangout as well as quality dine. This is an ideal place for couples and corporate members looking for hangout and party in Pune. Also, the choices of beverages available here makes it among the best Pubs in Pune. The price for 2 persons at Fishbowl is approximately Rs 2000 for meal. It is open on all days from 11:00 AM to 11:30 PM.
Address: FISHBOWL Hyatt Pune, Adjacent to Aga Khan place, 88, Nagar road, Kalyani Nagar, Pune-411006
Phone: 020 4141 1234