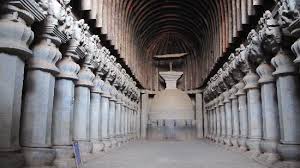 Information on Caves around Pune – Karla Caves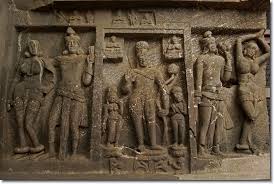 Place description :
Caves around Pune have their own importance and significance. With its mystic splendour, one should not forget about the Karla Caves. Karla caves in Lonavala, Pune is a rock-cut architecture of Budhhist origin, dating back to 2nd century BC. It is a famous tourist spot along with its sister cave, Bhaja caves.
The Lonavla Karla Caves are located just 3 km away from the  main road and yet surrounded by lush greenery and fantastic views. There is a sense of peace and quiet in the caves and the surrounding waterfall near the cave is an added bonus. The tourists can freshen themselves in the small pool formed near the waterfall or enjoy the water splashes.
The Karla Cave is world renowned for being the largest Buddhist Chaitya or temple of the Hinayana sect. The rock cut architecture is said to be carvings made from living rock and that some of the 2000 year old beams could be still alive. The climb to the Chaitya is steep and takes time but the result is worth it. The Chaitya is 45 metre long and exquisite by itself. There is also a sculpture of the Buddha preaching. He is seated on a throne supported by lion, and has gorgeous carvings depicting elephants.
There are many places to see near the Karla and Bhaja Caves, for example, the sausage hill, the Valvan Lake and the Ekvira Aai Mandir.
Valvan Lake is an important attraction in Lonavla. It is a picturesque Lake surrounded by hills. The place is calm and serene and away from the city rush.
The Sausage Hill is a famous tourist attraction surrounded by dense forests. It attracts many trekkers and is well known for its hiking expeditions. There are forts, lakes, hillocks to see on the way. The forests are home to some rare variety of birds and animals.
The Ekvira Aai Mandir is dedicated to Goddess Aai Ekvira and located near the Karla and Bhaja caves. It is a Hindu Temple that attracts many followers throughout the year.
Attractions:
The Karla and Bhaja Caves are Buddhist Viharas and Chaitya dating back hundreds of years. The Karla Caves is famous for its rock cut architecture, meaning that the carving is done from living rocks.
Lonavla is a very famous tourist attraction. It is renowned for many points of interest as well as its beautiful views and weather.
Distance From Pune : 59 Kms
Attraction: Karla caves, Lonavala, Bhaja caves
Route description: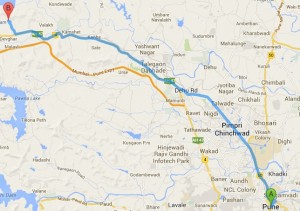 Emergency contact :Police Station: +912114273033