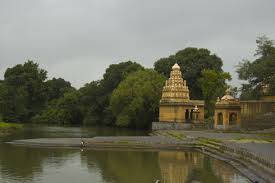 Information on Historical places nearby Pune – Menawali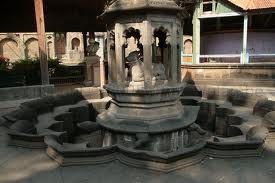 Place description : 
History speaks many things and so are the many historical places nearby Pune with Menawali one among them.  Menawali, Satara district, is a village known for Wada, built by Nana Fadnavis, the Maratha statesman from the Peshwa period. Menawali is a tourist spot for this significant monument and is a stop for most tourists visiting the nearby region specially looking for historical places nearby Pune.
Meenawali is also spelt as Menavli by locals and pronounced as "may" "navali". It has rememnants of the old architecture and formations and is used for the shooting of many films, one of the chief ones being Swades starring Shah Rukh Khan. There are many temples in Menawali for the spiritual minded.
The attractions include the Ganapati Mandir, on the edge of the water and looking picturesque and serene. A further three km away from the place is the Menawali Ghat. The Ghat has a small temple and a land protrusion into the water body. The place is very clean and serenely beautiful. It is surrounded by trees on all sides. Buffalos graze nearby. The temple is good for fim sequences due to its untouched air and exclusivity. Not many tourists venture out from the well known hill stations off Lonavla and Khandala.
There is also the Lord Vishnu and Shiva temples here to see that are short drivable distances away. Another great tourist delight is the Nana Fadnavis Wada or a fortified house that is located on the banks of the Krishna River. He was a minister from the Peshwa period and his 'wada is renowned among the locals even today.
Another small drive from the wada lies the Dhom dam. Although the dam itself is closed to the local public, the backwaters are not. The view from the backwaters is said to be mesmerising. They are surrounded by hills and many hills have unusual rock formations on them.
Attractions:
The 'wada' is a fortified mansion in the bankd of the Krishna river built during the Peshwa reign by the minister Nana Fadnavis for security and protection. It is very popular among the locals and a great attraction for the tourists.
There are many temples in the region. There is the Lord Vishnu and the Lord Shiva temple, along with the Ganapati Mandir. The Menavli Ghat is also home to a beautiful temple. Al the temples are located in very scenic environment.
Distance From Pune : 91 Kms
Attraction:"Wada" (Fortified Mansion),  Lord Vishnu and Shiva temples
Restaurants:Vijay Guest House, Mayur Agro Park
Medical facilities near by:Ekopa Hospital, Arjun Hospital
Route description: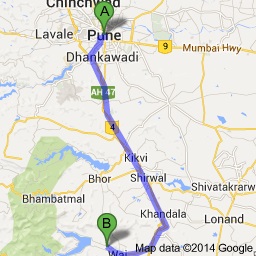 Emergency contact :Satara City Police Station , Raviwar Peth , Satara: 02162230580